Have you heard about the National Disability Insurance Scheme (NDIS)?
italk Studios recently produced a series of animations to explain how the NDIS works and how Anangu can become Disability Support Workers with organisations that deliver NDIS services in communities.
The NDIS is rolling out across Australia. For new participants in remote Australia, the NDIS can provide benefits and services to people with disabilities.
In the NDIS Pathways story, join Brian, a Community Connector and Joyce, a Local Area Coordinator, as they visit people in community to explain the three steps of an NDIS Plan: Access, Planning and Review.
You'll also meet May, Dan, and Gary. They are each on different stages of getting an NDIS Plan to help them.
---
---
When their Plans are processed and approved by NDIS, May, Dan and Gary receive help from Disability Support Workers. That's where our second suite of stories on Disability Support Workers comes in.
Carol and Jim are two Anangu people who work for organisations that deliver NDIS services. The five Anangu Disability Support Worker stories we made with the Regional Anangu Services Aboriginal Corporation (RASAC) explain how to become a Support Worker and what a Support Worker does.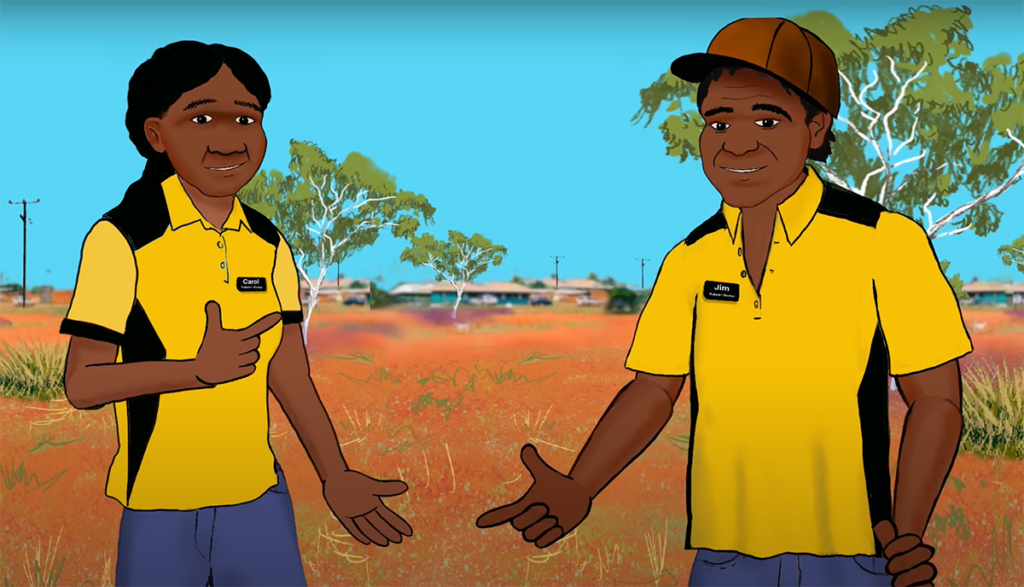 The Anangu Disability Support Worker stories have been made in English and Pitjantjatjara.
---
---
italk worked with the NDIS office in Alice Springs and the Regional Anangu Services Aboriginal Corporation (RASAC) to create the NDIS and Anangu Disability Support Worker series.
Here's what RASAC has to say about working with us:
"It was a pleasure to work with the italk team. We chose to work with italk because of their great track record in producing culturally appropriate, effective information and training presentations for remote Indigenous communities. We were not let down. They are professional, creative, cohesive and customer focussed. italk provided great advice and support in developing our training animations. Highly recommend their work."
Thanks, RASAC team!
A big shout out to Darcy Davis at Red House Recordings for helping us out with these projects.
We look forward to providing more information about these important services to all communities.